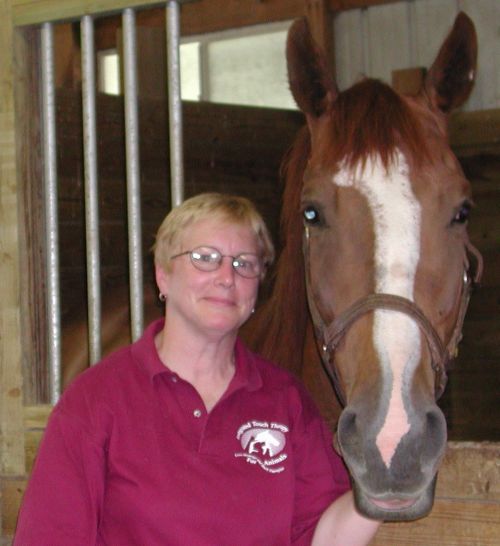 Patricia Whalen-Shaw
Integrated Touch Therapy ® Inc. Instructor

Patricia Whalen-Shaw, the primary instructor for Integrated Touch Therapy, Inc. has been riding and working with animals for over 40 years. She has taught equine, canine and feline massage since 1992. She's the president and founder of ITT, Inc.®, a company dedicated to the ethical and high-quality instruction in the art of massage for animals.

Previously, Patricia was co-founder and past-president of Optissage, Inc. She has been a recipient of Who's Who in Executives and in Businesses from 1998 to 2000. She's a licensed massage therapist in Ohio, nationally certified by the NCBTMB and is sports-massage certified.

Her massage career highlights include being chosen as a massage therapist for the 1996 Paralympics Games in Atlanta, the 1999 Pan Am Games in Winnipeg, Manatoba, Canada, and the 2002 Winter Olympics in Salt Lake City, Utah. She has taught equine massage at Otterbein College through the Equine Science Department and has written and published three books, 2 videos, and 2 DVDs.

Patricia holds a B.G.S. from Ohio University, an M.S. from Indiana University, and has taken graduate course work in sports psychology. She is a graduate of Central Ohio School of Massage, and is an associate polarity practitioner, and registered cranial sacral therapist.

Besides having had the honor of training thousands of students about massage techniques for animals and how to apply these techniques while honoring the animal, Patricia has personally worked with Grand Prix Dressage Horses, 3/Day Eventers, ropers, reiners, as well as racing greyhounds, dogs participating in agility and obedience, nose work, Schutzund, guide dogs and performance felines.

Patricia currently resides at Synergy Farm.

Click here to see an article on pet massage.

Click here to see an article Pat authored, which appeared in the November 09 issue of Massage & Bodywork.